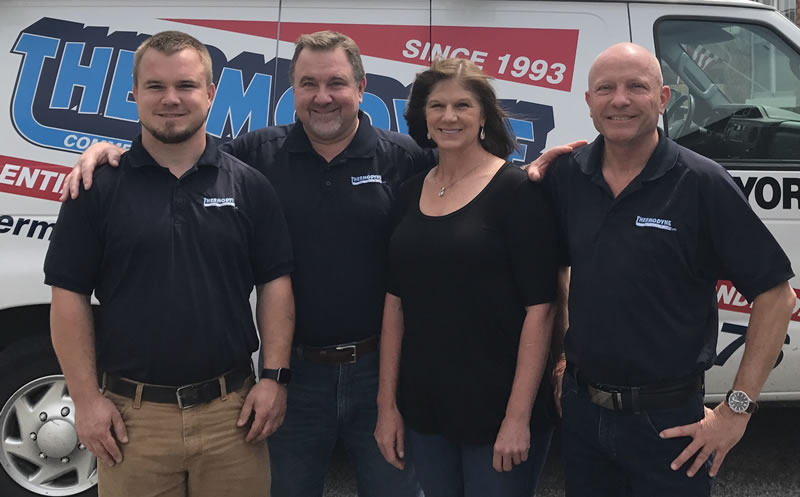 Thermodyne is a family-owned, multi-generation business founded in 1993 by Roger Johnson. The company provides for all facets of commercial and residential repair for:
Air Conditioning
Heating
Ventilation
Refrigeration (commercial only)
Company president and founder, Roger Johnson, has worked in the industry for 30+ years, and is trained and certified in all facets of HVAC. His formal training was through RETS College, one of the nation's premier technical schools, located in Baltimore, MD.
Thermodyne's commercial customer base ranges from small mom and pop retail stores to apartment complexes, to chain convenience stores with 100+ locations needing services.
In addition to Roger, the business is managed by Roger's sister, Karen, who has 20+ years in the industry and formal training from Ranken Technical Institute. Steve Moore has 20 years of field experience, and handles day to day operations as the company Service Manager. Roger's son, Josh Johnson, has 9 years of field experience and in addition to running service calls, supervises the technicians in the field. Josh is the next generation of Thermodyne.
Thermodyne prides itself on exceptional performance by skilled and trained service technicians. Our technicians do not stop their training at trade school. All technicians attend seminars and advanced training regularly each year. We make sure our technicians are trained to give you the best service in the industry.
Our customers love us because we take care of them like they are our own family!
MISSION: To provide the customers of Thermodyne with professional and expert care, meeting their needs for repairs, installations, maintenance, and advice on all aspects of air conditioning, heating, refrigeration, and cooking equipment for their homes or businesses at a fair and competitive price and completed in a timely manner.
OUR VALUES:
Our customers are to be treated fairly and honestly, as though they are our family;
Our technicians are to be competent, professional, and courteous to the customers and fellow employees;
Our technicians are to thoroughly explain problems to the customer and present reasonable options for solving the problems;
Our technicians are to regularly train, learn, and apply the latest innovations in their fields of expertise.